Streamlabs Prime: Getting Started with a Custom Tip Page
Last Updated on January 23, 2021 by Michael Brockbank
After paying the annual fee for Streamlabs Prime, it's time to get started. After all, I want to make the most out of the next 365 days. Perhaps the best place to start is the custom tip page.
And even though people can watch the streams on Twitch or YouTube, the page you get from Streamlabs Prime is kind of like having your own website.
For me to set something up like this, it would cost me around $5 per month for hosting and the domain name.
What is a Custom Tip Page?
A custom tip page is essentially a website you can share with your audience. It provides a platform specifically geared for audience retention, collecting tips, and selling your merch.
The custom tip page from Streamlabs Prime is also highly customizable. This means that even if you use the same theme as another streamer, you can still create a unique experience.
This service is responsive and works just as well for mobile devices as it does for desktop computers.
Setting Up a Custom Tip Page
I'll have to create a how-to for setting up this page at a later date. It's much too expansive to put into this particular article. However, there are a lot of options to choose from.
Finding the right combination of what works is going to be quite time consuming, but in a good way. That's only because of the sheer number of options I can change.
A quick breakdown of the custom tip page includes:
Themes
These are the overlays of what you can show on your particular page. Themes are the backbone of your overall design.
Domain
This is the domain of your page. You can use the default, which is "https://streamlabs.com/yourchannel" or add one you already purchased.
Design
Here is where you can change all kinds of elements. This includes everything from typography to adjusting the navbar.
Content
In the content section, you can add all kinds of blocks. You can connect your Twitter feed, show off your merch store, add the Twitch panels, or display available videos from your YouTube channel.
There are also a few other settings that only work if you have your own domain. Perhaps I'll buy one after this case study should I find Streamlabs Prime to be worth the investment.
Finding the Right Theme
The custom tip page has a long list of themes to sift through. In fact, there are so many available, you could theoretically change the theme for every game you add to Streamlabs OBS that you play.
The problem with changing it up, though, is the chance to create confusion.
Humans are more receptive to visual stimuli. If you change the layout suddenly, people may believe they have the wrong streamer and may leave.
On the other hand, changing it up to fit the game may also keep the page from feeling boring and monotonous. It may be something to explore by experimenting with what layouts engage the largest audience.
For now, I'm simply sticking with the Tempest theme. Though, there are a lot of "Futuristic" layouts that I like.
Customizing the Design
I made a few adjustments in the font, color, and added a pulsating effect to my buttons. And if you know anything about CSS, you can add your own snippets in this section.
At the moment, I'm going to see how well this layout does and whether the audience engages in the page. But like everything else, it'll be trial-and-error to discover the best designs for viewers.
Because in the end, it really doesn't matter what I like. It's the target audience I'm trying to impress, not myself.
Adding Content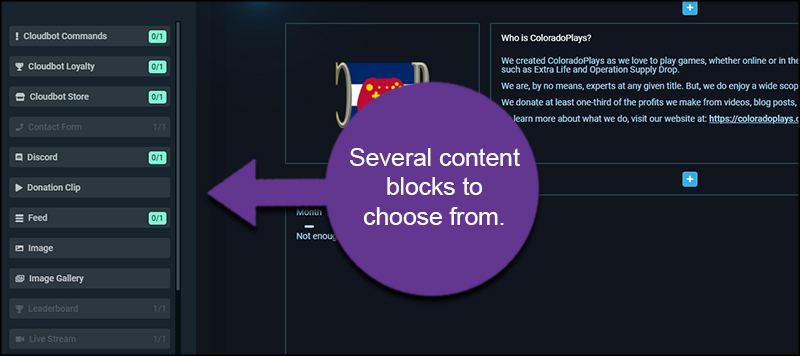 Perhaps one of the more fun parts of setting up a custom tip page is adding the content types. Streamlabs Prime gives you a ton of blocks to choose from.
In this instance, I've added our EverQuest 2 YouTube playlist, our merch store, the contact form, and the donation leaderboard. Though, I'm sure I'll wind up going through this a few times to find the best layout for our audience.
While designing, the tip page has drag-and-drop functionality. So, if you want to move a block somewhere else on the page, it doesn't take much effort.
Setting Up Additional Pages
Adding Pages
The custom tip page is more than just a single layout. You can add other pages as a way to make it seem more like a full website.
Every additional page you add is just as customizable as the home layout.
As a test, I'm going to create a series of content-focused pages to see if it makes a difference in SEO. I'm not sure if it'll generate traffic from Google, but it's worth an experiment or two.
That's because the vast majority of organic traffic to any site comes from search engines.
Unfortunately, it can take between six and eight months for any real piece of content to cycle through Google. And that's even if you add it to Search Console.
Unfortunately, I see no area where you can submit the verification code for Google. So, I'm not 100% sure if this is even going to work.
That's what case studies and experiments are for, though.
Do You Need a Custom Tip Page?
In reality, if you have a self-hosted website, you really don't need a custom tip page. In fact, everything I set up today can be easily done with a bit of design work and WordPress.
However, the process of creating your own would take considerably longer. And not to mention, considerably more expensive.
Even if you use nothing by free plugins and do most of the coding work yourself, it's still going to take time. How valuable is your time in the grand scheme of things?
Streamlabs has simplified a vast portion of what you'll want to show to an audience. In far less time, you can set up a custom tip page, add more content, and create a fairly fleshed-out website.
If you don't have a self-hosted site, then this is probably perfect. Especially since just about anyone of any skill level can create a very attractive layout.
Make Sure You're Marketing the Stream Well
Setting up a custom tip page is only part of succeeding. You then need to make sure people are finding the site. This means you'll have to market it on a variety of platforms and share the link with as many people as you can.
After all, no one is going to visit if they don't know it exists.
As for me, perhaps the next step is to find an overlay for Streamlabs OBS for tomorrow night's stream from the Streamlabs Prime library.
Latest posts by Michael Brockbank
(see all)
(Visited 314 times, 1 visits today)